As a mom myself maternity photography holds a special place in my heart. I struggled with infertility, and it took my husband and I 16 years to get pregnant with our 4 sweet babies.
From that first moment I saw that positive pregnancy test my life was changed. It is amazing how fast you fall in love with your babies.
Over the next nine months of pregnancy your body will change in so many beautiful and painful ways. I remember being so in love with feeling my baby move around beings incredible uncomfortable with my changing body all at the same time.
Let's be honest by the end of our pregnancy nothing fits, you're not sleeping, and getting around gets harder and harder by the day.  It's common for moms to struggle to feel beautiful during the end of their pregnancy.
It has made me focus my maternity photography on helping moms look and feel as beautiful as I see them. Our bodies are so amazing in what they go through to bring life into this world, and it is so important to capture this special moment in our lives.
To insure you look and feel your best I have over 50 maternity gowns in all colors and sizes and modesty standards.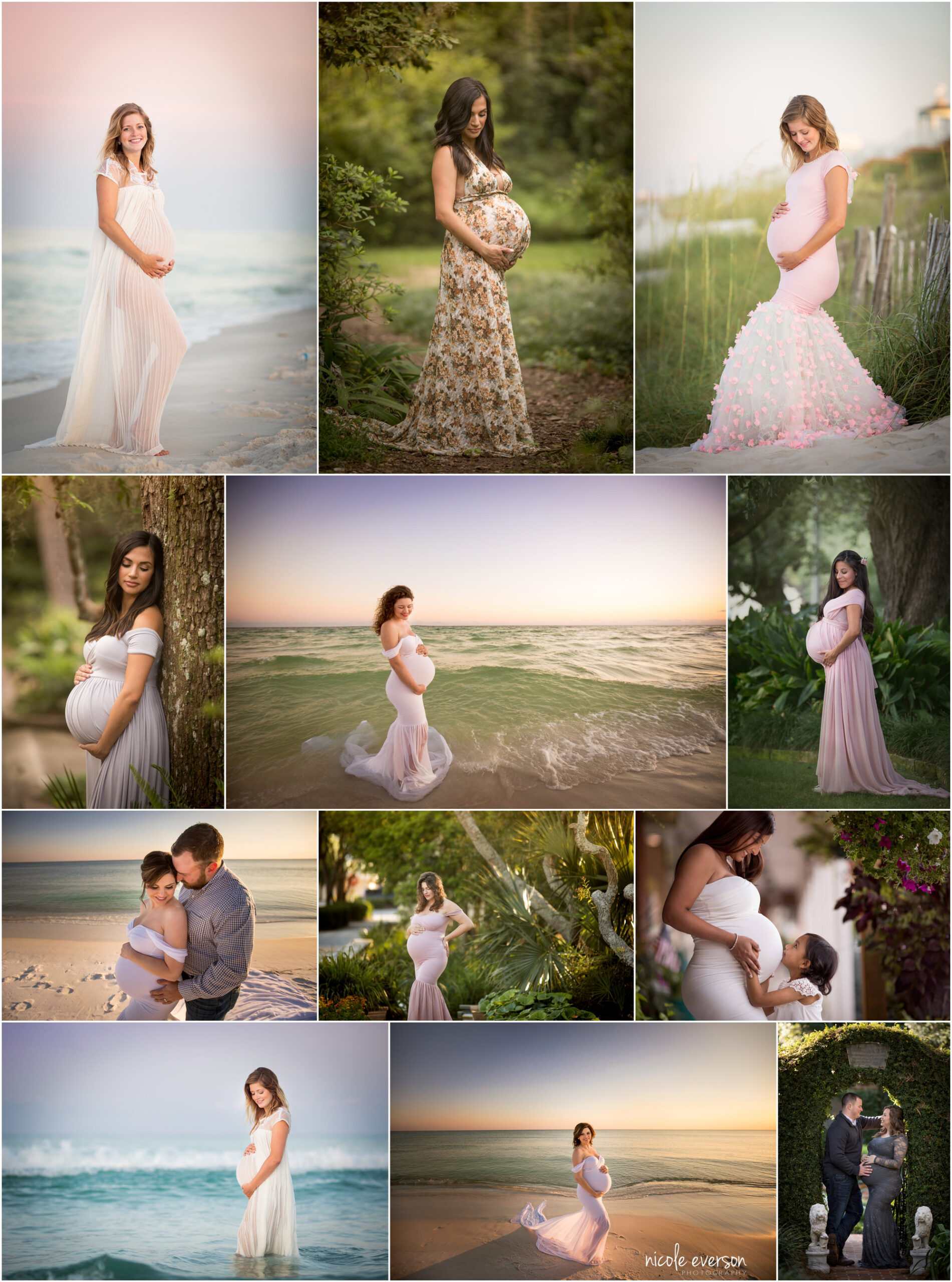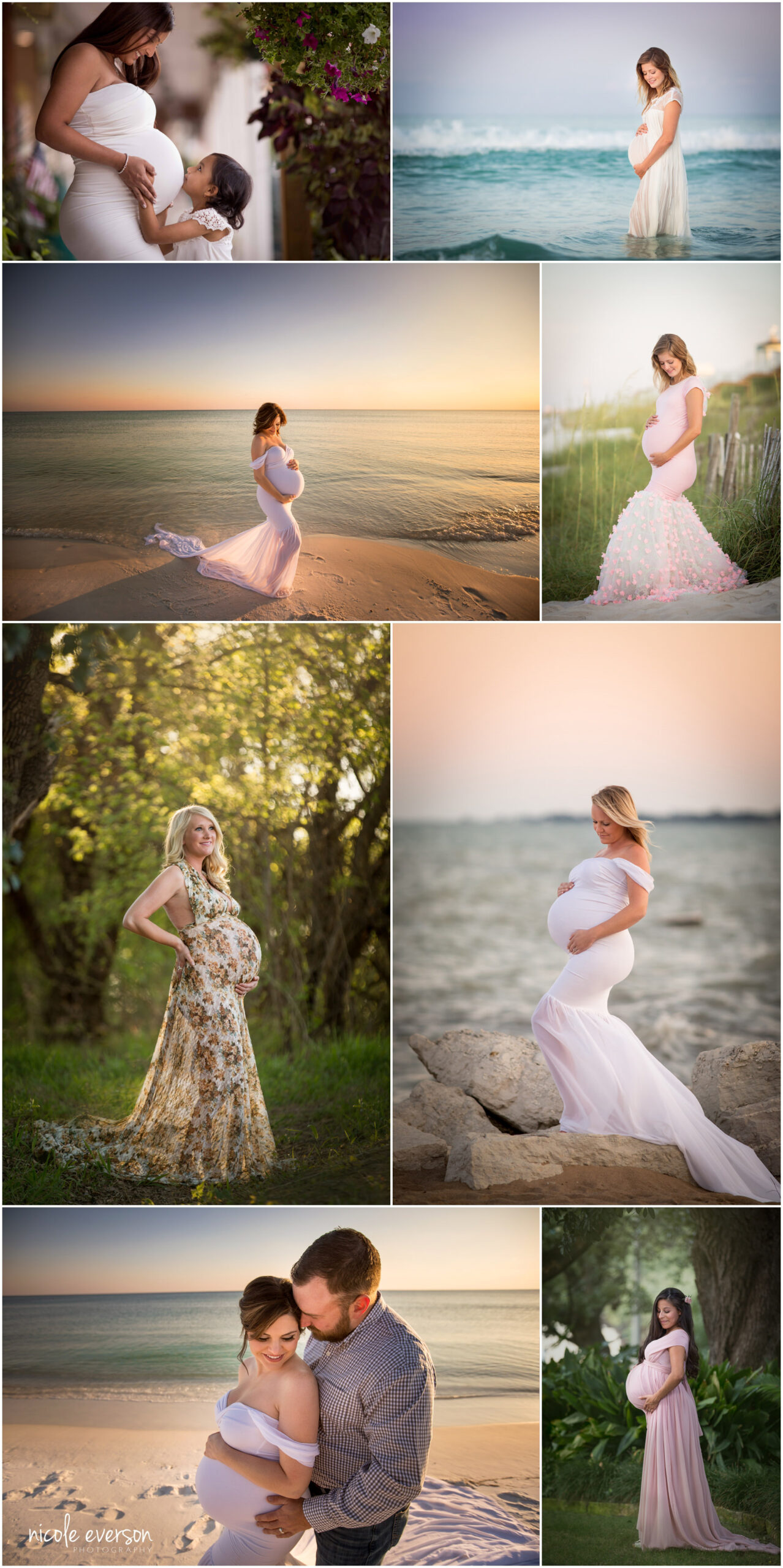 Maternity Photography | Booking process
I photograph all low risk pregnancies at 33-34 weeks. at 35 weeks pregnant moms start to put on water weight to prepare for labor, so I like to photograph you before then. If you are pregnant with multiples,or have a high risk I schedule your photoshoot between 29-32 weeks. You can book your session as early as your first trimester to secure your session, but your sitting fee is not due till you're 3rd trimester.
Maternity Photography | Preparing for your session
Your maternity session can take place in a garden, on the beach, downtown, in an overgrown field or in the studio depending on your style. Depending on what town you would like to do your session I can help you pick the best locations that fit your style.
You can rent your own maternity gown or use a few of the maternity gowns I have in my prop closet. I can help you pick the ones that will best fit your style and flatter your body shape.
Every mom needs to wear a flesh colored strapless bra, and flesh color loose fitting underwear. If you are noticing swelling early in your pregnancy expressly in your face, if you will eat low sodium for 5 days before your session you will notice a big difference in the swelling.
Maternity photography | At your session
I love to incorporate dads and siblings in your maternity session. If you have younger children it is important to have a helper (grandma, friend) to come along and help out with the little ones.
Maternity photography | After your session
Within one week of your session (usually two business days), I will have your portraits edited and ready for you to come to the studio to place your order. As a mom, I understand how hard it is to wait to get pictures of our babies, so if you order the CD you will be able to walk out of your ordering appointment with your CD in hand. Your portraits (canvases, prints, bamboos etc) will all be mailed to you within a week. If you live more than a hour away from the studio you can opt for an online ordering appointment.
Ready to find out more?
Drop us a line today for more studio information and to book your session!